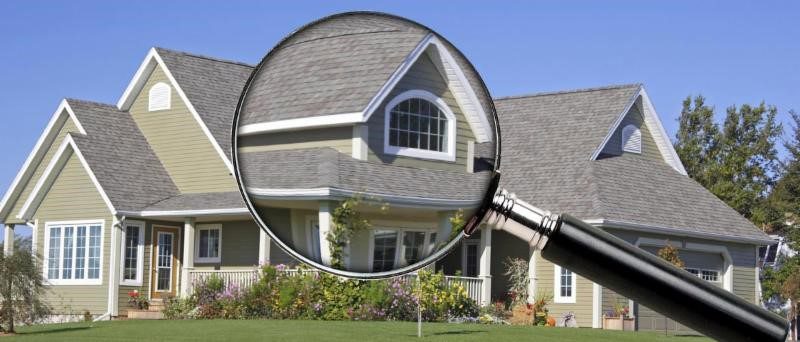 SPRING IS HERE! IS YOUR HOME UP TO DATE?
When was the last time you inspected your home? If you struggle with keeping your home comfortable all year round, we have answers!  Here is a checklist of some of the things to check for this spring season.
Window Inspection
The weather is nicer, your home should be too. Check your windows' caulking or weather stripping and condensation. If you find cracks or peeling caulk, your window will require new caulking to prevent air from getting in or escaping. Condensation could indicate a seal failure. If you'd rather not deal with the caulking every year, contact a professional to weigh all of your options. With a professional inspection, you can find out if you need a new window! Inspection can include, checking the window seal, searching for wood rot, testing the glass & inspecting the caulking.
Soffit Boards and Vents
Walk your home's perimeter and make sure the soffits are secure. If your soffits are wood, look for dark areas, chipped paint or other signs the wood may require replacement. For soffit vents on one-story homes, remove the vents to ensure they are not clogged. You can easily clean them off with a screwdriver or replace them yourself at a reasonable price. Painted soffit vents reduce airflow as well, so make sure your vents don't have bulky paint on the inside or out. When you remove the vents, you can clean out the hole in the soffits with a broom handle, lightly moving it in circles to clear any debris. A leaf blower also works. It is important your attic is breathing properly, and cleaning the soffit vents will aid in that process.
Siding Maintenance
Siding is the skin of your home and with the weather being unpredictable as it is, it might need some love. With wooden siding, be sure to check for soft, soggy boards and paint chips. It may mean you need to replace your siding or it could just need a new paint job. You always want to look for a paint that seals the wood from the elements. If your siding is just a little dirty, a rinse from the hose will do the job. When working with metal siding, check for rust and oxidization. Make sure not to use soap when rinsing your siding, it only speeds up the metals oxidization. If you have vinyl siding, you're lucky! Vinyl stays clean with just plain water and never chips! Be sure to inspect if any of the boards have come loose. Contact a professional if you are unsure.
Roof Leaks or Loose Shingles
Upstate NY weather can cause wear and tear on your home, so make sure to look for missing or dislocated shingles and raised nails on your roof. When your shingles develop a curve, it means the nails have raised causing the shingles to lift. If you do not own a ladder, roof inspections can be done safely from the ground. For two story homes, use binoculars. If you can't tell whether your roof is in its best shape,  have a professional perform the inspection for you. Inspections can include searching for loose shingles, protrusions, such as pipes and vents, and roof leaks.
Gutter Cleaning and Repair
Gutters are often overlooked because they are also in a hard to reach area. So if you only do this every spring, be sure look for any cracks or water dripping through any creases. Otherwise check them at least once a month to ensure proper drainage. If water is collecting or seeping through cracks, this can indicate a problem. Because of their reaching difficulty on your home, there are specific tools you can find at your local Hardware store to clean them with. If your gutters still aren't draining properly, you may need to hire a professional for inspection.
 Attic and Basement Insulation
If your attic is easily accessible, check insulation levels. You can do this with a simple ruler or if you see the wood rafters sticking out from the insulation, it may be too low, requiring additional insulation. Also, look for signs of critters or insects in the attic. One of the tell tale signs of an insect issue is your insulation being disturbed, torn, or discolored. If these or other signs of animal activity are present, contact a wildlife removal or pest control company for inspection.
HVAC System Maintenance
So you've checked everything off your list, but your home still doesn't feel comfortable? Have your Heating, Ventilation, & Air Condition systems inspected for any issues. Annual air conditioning maintenance prevents breakdowns, improves system efficiency, and enhances indoor comfort. Spring is the perfect time for a tune-up. Now is also a great time to schedule professional duct cleaning — which eliminates contaminants like dust, dirt, pollen, and mold from your duct work system. Have a professional perform an energy audit this spring to find out exactly where air leaks and insulation gaps are. Once an energy audit has uncovered problem areas, have a professional air seal and install new insulation as needed. The attic is often the first place to target!
At Your Wits End?
Here are some helpful suggestions on some of the BEST companies & services CNY has to offer, and how to get in touch!
Windows, Siding, Doors – New York Sash @ 315 624 7344
Heating/AC – Fred F. Collis & Sons @ 315 768 2323
Insulation – Standard @ 315 738 1424
Roofing –  The Roofing King @ 315 269 3519