Recently, New York Sash's 2nd Annual Extreme Bath Makeover Contest ended. We had almost 2,000 entries, but unfortunately, we could only pick one winner. We know many of our contestants just don't have the income right now to remodel their entire bathroom, so here are some easy and inexpensive ways to give your bathroom a new look!
Painting your bathroom
Paint is the most inexpensive way to transform the look of any room.   For under $30, you can make a noticeable change in your bathroom. Plus, since bathrooms are typically small, the process shouldn't take more than 2 days!
Bathroom Lighting
Most people don't think of the lighting when doing a minor remodel, but a fun and interesting light fixture in the bathroom can draw as much attention as a new tub or vanity!
Replacing Bathroom Hardware
Another thing people overlook in the bathroom is the hardware on their cabinets. Most cabinets have standard or plain hardware. Get creative! Replace it with something unique and different – each knob or handle will cost any where from $3 to $15.
Installing New Bathroom Accessories
Of course, the easiest way to change-up your bathroom is through accessories. Have a white bathroom? Add a pop of color with vibrant, new towels! Does your bathroom have a theme? If not, give it one!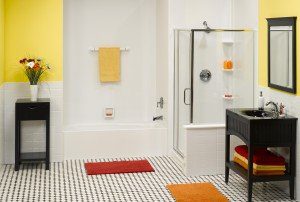 These are just some easy ways to change your bathroom's look, while you save up for your dream bathroom! If you have any questions on the bathroom options New York Sash offers or want to get started remodeling yours, contact us online or give us a call today!