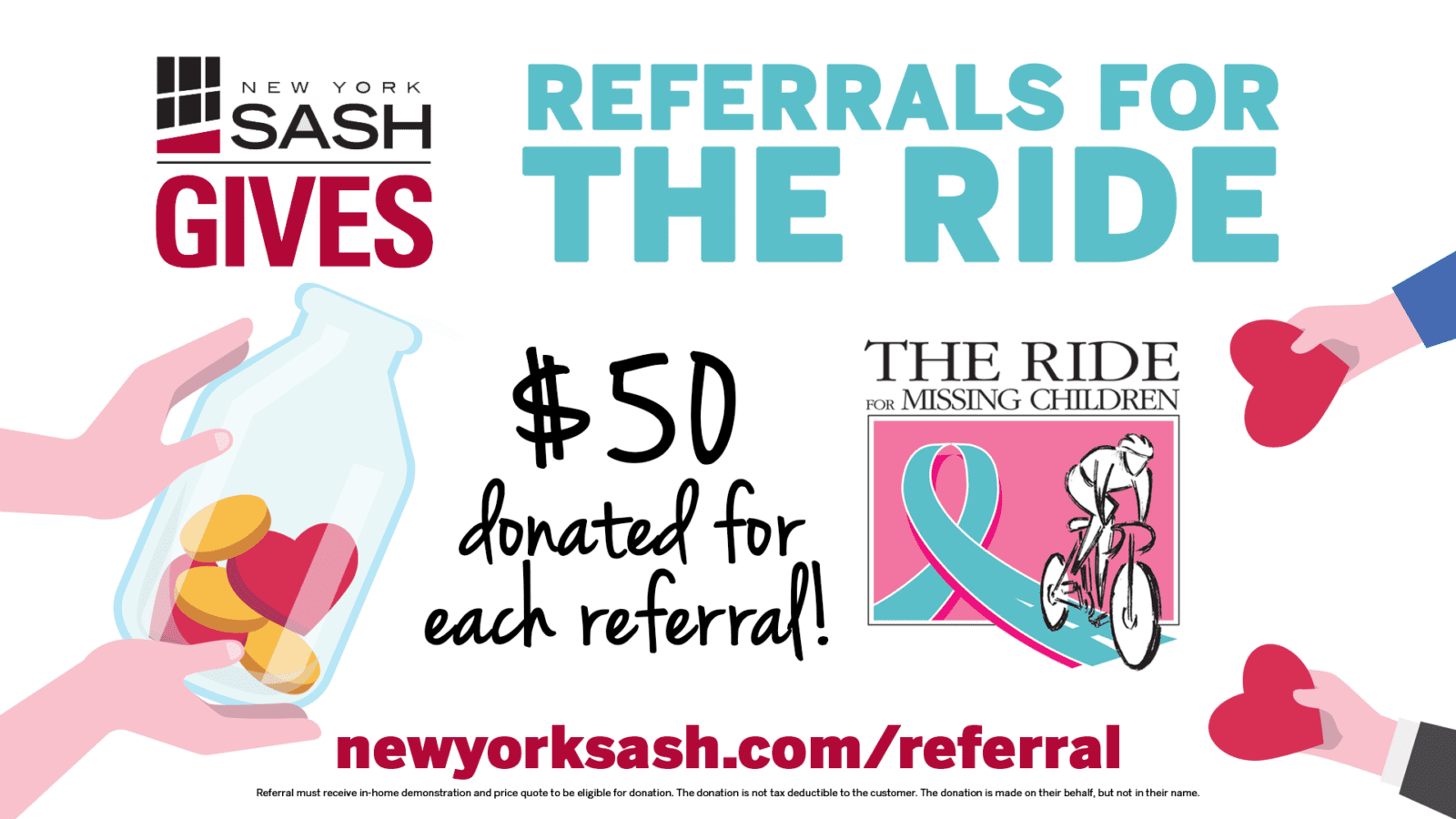 This summer at New York Sash we're taking Referrals for the Ride!
From June through August, refer a friend or family member to take a look at New York Sash products and services and we will make a $50 donation to support the Ride for Missing Children on your behalf!
Since 2013, the New York Sash Gives charity referral program has donated $50 to charity for every referral we receive. This summer, it's all focused on supporting the efforts of the Ride for Missing Children to raise awareness  and prevention of missing and exploited children.
Refer a friend for a quote on our windows, siding or baths and support the Ride for Missing Children CNY with Referrals for the Ride at New York Sash!
More Than A Ride
In 1995, a group of 7 men rode their bicycles from Utica, New York to Washington, D.C. They arrived on the Capitol steps on May 25th, National Missing Children's Day. Two years later, inspired by that first ride, a group of 43 riders rode their bicycles 100 miles from Albany, NY to Utica, NY to bring awareness for the plight of missing children and to bring a message of safety to the people they met along the way. The annual Ride for Missing Children was born.
For Utica, NY, the bicycles are a tribute to Sara Anne Wood, who was walking with her bike when she was abducted. They are the vehicles we use to make our journey and carry our message along. They provide a visible means to spread our message about the plight of missing and exploited children, and the importance of child safety education. Our bicycles help us to communicate with those whom we ride by and to educate those that we visit.
The Ride This Year
This year is a 5 ride year, with Rides taking place in Rochester, Buffalo, Albany, Utica and Syracuse. Utica's Ride for Missing Children takes place on Wednesday, September 28th!
When you participate in the Ride you become a part of the biggest unified team in the NY area helping to raise awareness and spread the message of prevention and hope.
New York Sash is a long time supporter and sponsor of the Ride For Missing Children. Our mission…
Keeping Our Children Safe, One Child At A Time