Triple pane, or triple glazed windows are the premium window product available for your home. If you are looking to replace your windows and want to install the highest quality window solution, you definitely want to make sure you consider triple pane windows.
These triple pane windows feature (as you might imagine) three panes of glass set within the frame. There is an exterior pane that contacts the outside air, an interior pane that faces toward your living space and a central pane that divides the two.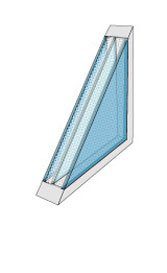 Pockets of air are trapped between these panes, creating an insulating barrier. For maximum efficiency, ordinary air is replaced with insulating gasses, helping keep cold air outside and warm air in, or vice versa as desired. Low-e coatings are applied to the glass further enhancing their energy efficiency by eliminating solar gain. The low-e coating hinders radiant heat transfer, meaning the temperature on the inside of your home will not be affected whether it is summer or winter, as very little heat will be lost from the inside or gained from the outside.
Triple pane glass windows offer homeowners many benefits. The primary benefit is far and away their enhanced energy efficiency. Due to the extra pane of glass, insulating gasses, and special coatings, triple pane glass windows excel at conserving energy.
As much as 40% of a home's energy can be lost through old, leaky, single pane windows.
Upgrading to New York Sash Premier Triple Pane Windows will save you the maximum amount of money on your heating and cooling bill. Another advantage of triple pane windows over dual pane, is that they do not attract as much condensation on the interior. Also, generally speaking, triple panes will provide better insulation against sound or noise from outside. Triple pane windows are also a heavy-duty sturdy option for the homeowner who values quality as well as beauty.
If you are interested in getting more information on New York Sash Premier Triple Pane Windows, contact us today for a free price quote!