IF IT'S OLD, IT'S PRONE TO MOLD
Is your bathroom old and outdated? You might be prone to a mold problem in the future. Mold prospers in moist conditions; when the water in your shower or bathtub dries it evaporates into the air, therefore increasing the humidity. Without drying your bath or shower immediately, this can cause mold growth. Now you can take hot showers and baths worry free, with our Silver Shield™ technology.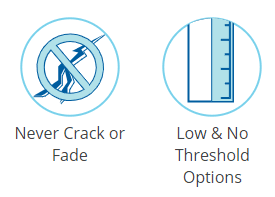 New York Sash offers the protection of Silver Shield™, where tiny Silver Ions are infused into non porous virgin acrylic, made to last for the lifetime of the system. These ions attack microbe cells, to prevent bacteria from growing and reproducing.
New York Sash acrylic bath systems are equipped with double anti-microbial protection, preventing microbes from penetrating the surface and with silver Silver Shield™ ion technology to help prevent microbial surface growth. Cleaner, fresher, healthier, you can enjoy more benefits with our BathWraps systems!