On Saturday November 18th, New York Sash welcomes Express Employment Professionals and their Military Cargo Vehicle for a food drive to benefit Feed Our Vets.
*** Bring a non-perishable food donation and be entered to win a FREE WINDOW, professionally installed by New York Sash! ***
Here is the last winner of a free window – this could be you!
Check out the truck, enjoy hot cocoa and treats while you browse our Idea & Design Center.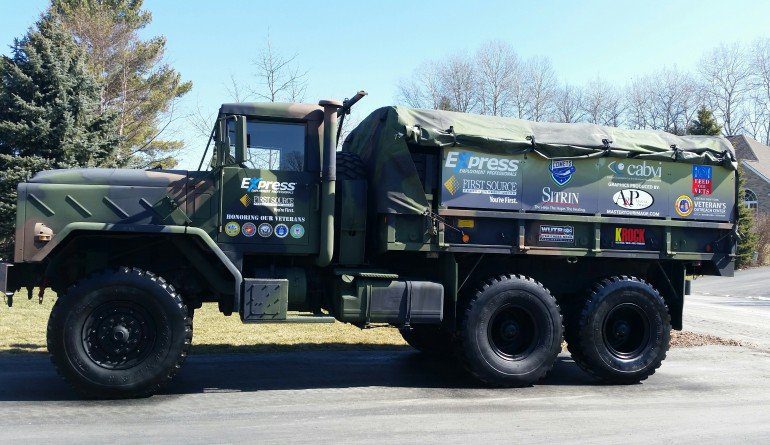 And set up a price quote for PreWinter Sale on Windows and Doors!*
And most importantly, give back to a very needy and worthwhile organization in our community. Feed Our Vets works to feed our nation's hungry and homeless Veterans and their family members.
We hope to see you at the GIVE BACK GIVEAWAY, Saturday November 18th! Thanks to Express Employment Professionals for partnering up with us on this great event.
[line]
*Energy efficiency rebate program offered on a first-sign, first-claim basis. $50,000 total program funds available as of 11/3/17. Available rebate fund balance may be requested at any time. Program funded and administered by New York Sash. Offers cannot be used on previous price quotes, on contracts currently signed or in combination with other promos or offers. See website or store for complete details.
**Window Giveaway Rules:
The Giveaway:  The contest is the Window Giveaway from New York Sash, hereafter referred to as 'the Giveaway.' Contestants must enter to qualify from 9am to 2pm on 11/18/17. Only one Grand Prize will be awarded. No purchase necessary and you do not have to receive a sales presentation to win the Grand Prize.
Qualifications: Contestant must be a legal resident age 18 years and older and a homeowner in Oneida, Herkimer, Madison, Lewis, Onondaga, Otsego, Fulton, Chenango or Montgomery counties of New York State. This contest is void where prohibited by law. Contest is not open to employees  of New York Sash or their families.
Prize: One Grand Prize will be awarded. The Grand Prize will be one New York Sash brand vinyl replacement double hung window with installation and warranty.  There is no cash value. New York Sash reserves the right to make any changes to the Grand Prize.
Conditions: Grand Prize winner must take possession of the Grand Prize. Grand Prize is non-transferable. All components of Grand Prize, including all products and installation must be used and applied to household listed on entry form. Winner must be legal owner of household listed on entry form. Winner will be required to sign an Affidavit of Eligibility within three (3) days of acceptance of prize.
Grand Prize winner will be required to sign a liability release within three (3) days of acceptance of prize and agree to hold New York Sash and representatives harmless against any and all claims or liability arising directly or indirectly from the prize or participation in the Giveaway.
Grand Prize winner hereby agrees to the use of their name(s), voice, or likeness and video or photos of their home and personal photos in any advertising or broadcasting material for promotional purposes without any additional financial or other compensation. Winner must sign a Media Model Release Form and Property Release Form within three (3) days of acceptance of prize.
All liability for reporting and paying any and all federal, state and other taxes on Grand Prize are the sole responsibility of Grand Prize winner. The value of the grand prize may be reported for tax purposes as required by law. Each winner must provide valid identification and a valid taxpayer identification number or social security number before any prize will be awarded. Grand prize winner will receive an IRS form 1099 at the end of the calendar year and a copy of such form will be filed with the IRS.
Grand prize winner is responsible for acquiring any and all permits required for the distribution of components of the Grand Prize. Winner is responsible for payments of all permit fees and for any expense not specified herein and relating to the acceptance and use of their prize. Distribution of components of the Grand Prize is contingent upon the winner's compliance of all prevailing local laws and will take place at the discretion of New York Sash and participating vendors.
New York Sash, participating media partners, affiliated companies and the officers, shareholders, directors, employees, agents and representatives of each are not responsible for any printing or typographical errors in any Giveaway related materials or for stolen, lost, late, misdirected, damaged, incomplete or illegible entries. Multiple entries will be discarded. Odds are based on the number of finalists. All finalists must meet all restrictions outlined in the qualifications section of these official rules and regulations.