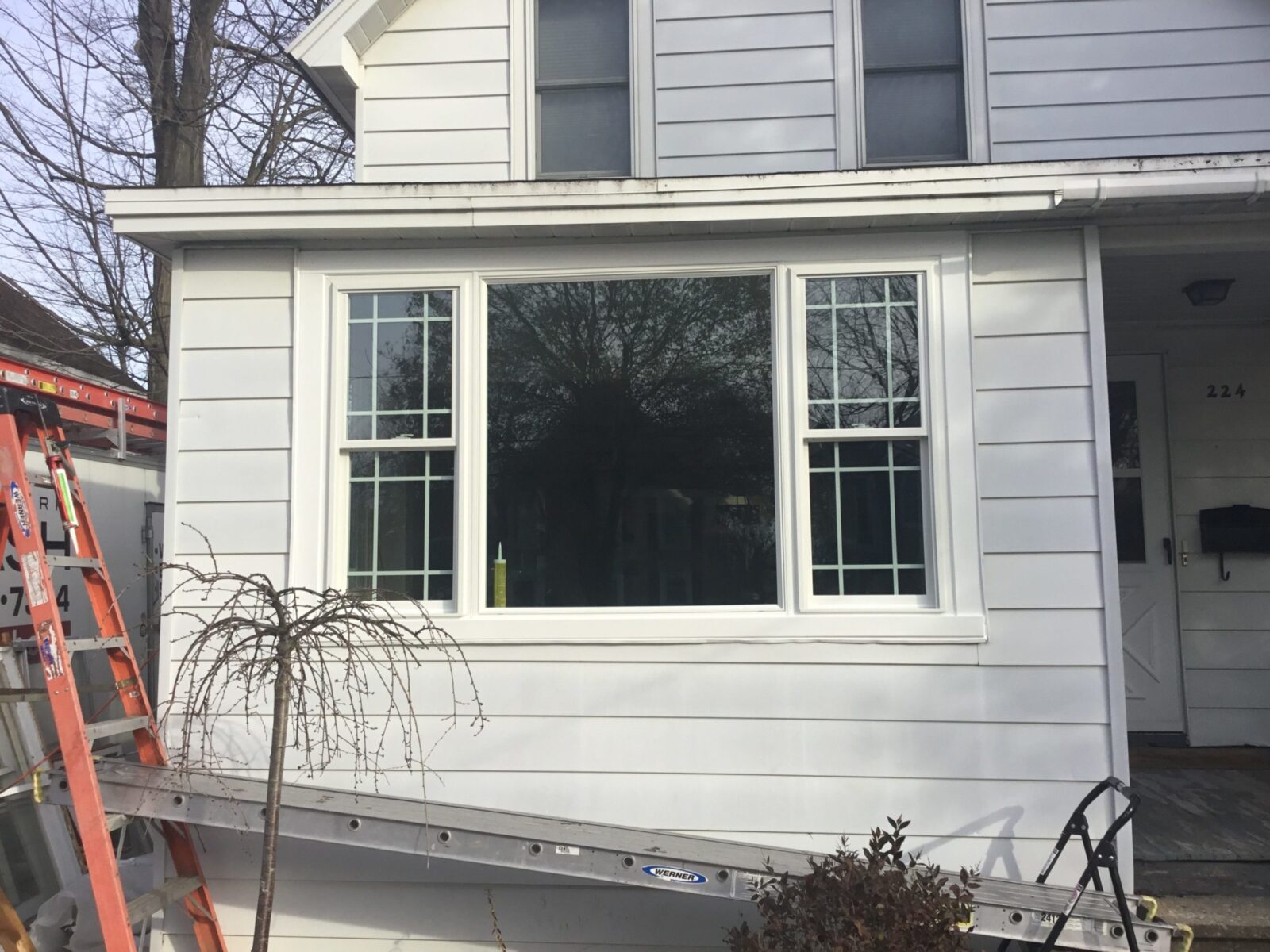 This week our featured project is a beautiful home fitted with our double hung & picture windows. Our customer wanted prairie grids in every double hung and a beautiful picture window in the center, to let the outdoors in.
A picture window is a large fixed window. A picture window gets its name because it is designed to provide a clear view of your surroundings, acting as a picture frame for the scenery outside. Since it features a wise expanse of glass, a picture window is great for bringing natural light to your home. Adding a picture window to a room is also a wonderful way to highlight an attractive outdoor view.
Installation Gallery
Double hung windows are the most popular choice among homeowners due to their traditional look and easy access, making them perfect for any room in the house.
New York Sash Premier double hung windows offer a lifetime of beauty and comfort. Two operable sashes move vertically in the frame and counterbalance mechanisms hold the sash open or closed. Double hung windows are easy to clean because of the variety of ways that you can tilt and open them – this is especially convenient for homes with more than one level.
You're the designer, with grid options that enhance your window and making it easy to maintain a certain look. New York Sash offers you a variety of grid options and styles!
Contoured Grids (between the glass): Colonial-style contoured grids give an elegant look while remaining easy to clean.
Flat Grids (between the glass): Flat grids give a classic look and are available in a variety of configurations.
Simulated Divided Lite (outside of glass): By placing traditional grids on top of the interior and/or exterior surface of the glass, you get the look of a true divided lite.
Take advantage of our biggest window sale of the year!
The best deal New York Sash ever offers to the public only happens once a year. When you choose to install your windows with New York Sash, you'll be able to take advantage of our buy two, get one free sale.
The window installation business slows down during the winter months, and we need to stay busy. As a result, you can save big and get the windows you've been dreaming about – windows that can help your home look its best and help you save energy.
How our winter sale works is simple – buy two windows, get one free. Buy four windows, get two free; buy six and get three. There's no end to the savings.
To get a free quote, fill out our convenient contact form and one of our team members will be in touch with you shortly. Don't forget – our buy two, get one free sale only lasts for a limited time, so contact us today!
[contact-form-7 id="6259″]
*Buy 2 Get 1 Free offer applies to New York Sash Brand windows. Free window provided must be similar size or smaller than that of the two purchased windows. Prior sales excluded – cannot be combined with other offers. See Design Consultant for details. Ends 02/02/2020.