This week our featured project included brand new vinyl siding, 23 windows plus soffit, fascia and new gutters for a repeat customer!
The customers wanted to keep their same warm colored siding without hassle of maintaining it ever year. They chose American Legend siding in the color Autumn Red and soffit & fascia in the color Russet. Soffit & fascia can bring the siding on any home together for a finished, clean look. They also opted for new seamless gutters with Leaf Relief protection to match.
They had previously updated their entire home with new energy efficient windows. We installed 20 double hung, 1 picture, and 2 oriel windows to complete this home makeover.
BEFORE & AFTER
WINDOWS
All of our windows are custom ordered to the exact size you need and the style you want, and they meet stringent industry standards for insulation, structural strength and resistance to the elements. Our windows are designed to withstand even the worst weather in Central New York.
SIDING
Three styles. 21 colors. Wolverine American Legend clapboard & dutch-lap siding, with its attractive woodgrain texture, has features that allow precise installation on your home. Designed to stay beautiful with very little effort, it features fade resistant colors, is very durable & offers exceptional value.
If you're looking for a reliable company with years of experience to install vinyl siding on your home, then look no further than New York Sash. Since 1989 we've been providing quality home improvement services and products including house siding. We provide full service before, during and after your installation. We're fully insured, safe on the job and careful with your home. And at New York Sash, we offer our customers only the best vinyl siding options from CertainTeed®. Made from premium vinyl, all of our siding styles are durable and easy to maintain, too. And what's more, our house siding won't fade, crack or rot – no painting required!
& GUTTERS TOO
We also installed Leaf Relief Gutter Protection System on this home. Leaf Relief patented design allows water to flow freely while debris is lifted away from gutters with a gentle breeze! Leaf Relief is not only the most effective gutter protection system on the market, it is also the most invisible laying flat and fitting snug on top of your gutter.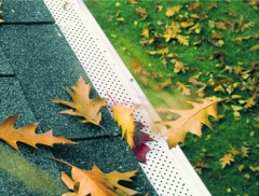 Have a project you want to show off? We would love to see it! Tag @newyorksash on social media or send it to info@newyorksash.com for consideration as a customer featured project.
Our customers were happy to show off their new home!