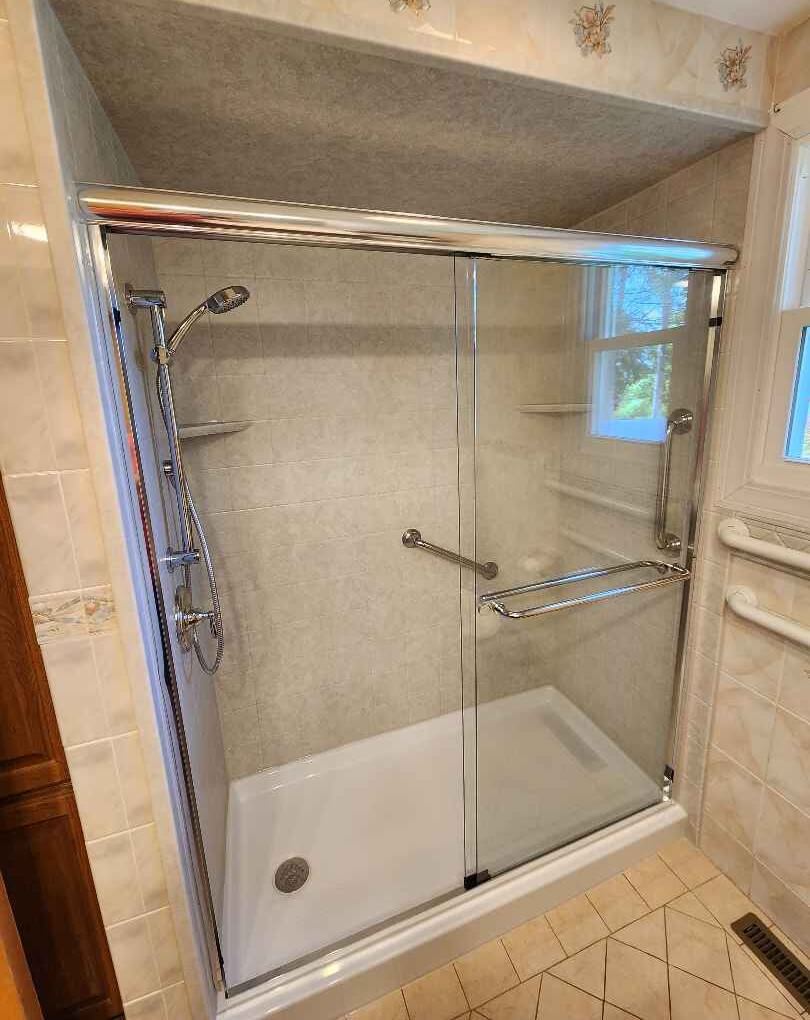 As this week's featured project we are taking a closer look at a shower conversion we recently completed for a returning customer in Utica, NY. Our customer needed to convert to a walk in shower for safety reasons and we were happy to help make the conversion happen. We installed a white shower base, ceiling panel, and a 6×6 simulated tile acrylic wall surround in the pattern roman stone. To complete the project we installed corner caddies, grab bars, chrome fixtures and a sliding shower door in clear glass.
Shower conversions customized to fit your needs
Our customer needed to get rid of their old cast iron tub and wall surround and convert to a walk-in shower because it was becoming difficult for them to step over the tub. With mobility concerns and shower safety in mind, they decided that converting to a walk-in shower was the best solution. Walk-in showers make a great choice for homeowners who have mobility concerns as they are easily accessible and can be customized to fit the homeowners needs.
At New York Sash we work closely with our customers to ensure they get exactly what they are looking for with their remodeling projects. We were able to help this customer achieve a safer and more accessible walk in shower with our customizable acrylic bath systems and safety accessories.
Why Should I Add Ceiling Panels?
If you have noticed mold or mildew on your bathroom ceiling, you know what a pain it can be to get rid of, not to mention the health threat it poses. A great way to prevent this from happening is to add an acrylic ceiling panel over the shower area. The ceiling panel will encapsulate the area and will prevent moisture from entering into the ceiling and causing further damage.
At New York Sash, we give customers the option to take the wall surround all the way up to the ceiling and add a ceiling panel for extra protection. Our customer will not have to worry about any moisture damage to their shower ceiling.
Whether you're looking to update your bath for safety reasons or to make it easier to get ready in the morning, we can help! With an expanded line of bath systems and accessories we have everything you need to create your dream bathroom. Our Design Consultants will help you through the whole process, showing you all of the options and available accessories to make your bathroom a beautiful part of your home.
Have a project you want to show off? We would love to see it! Tag @newyorksash on social media or send it to info@newyorksash.com and we will feature it!