With all the options for siding your house its great to understand what's available and how they are going to work best for you. Currently with all the new styles and colors available to homeowners getting vinyl siding installed has a ton of benefits that can save you time and money.
Since there are many benefits to installing vinyl siding, there is no surprise that it is one of the most popular choices for homeowners. According to the Vinyl Siding Institute, vinyl siding is the number one choice for exterior siding across the United States and Canada! Vinyl Siding is…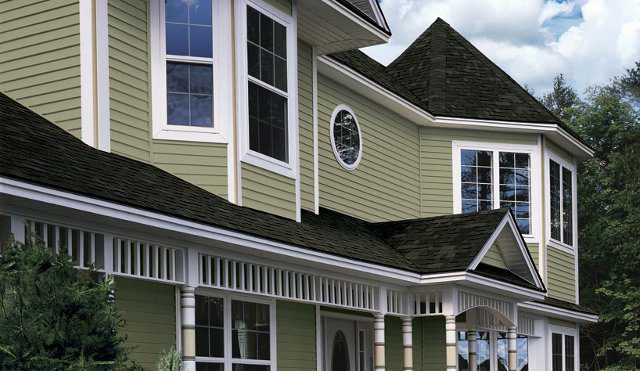 Cost-Effective
Vinyl siding is one of the most cost-effective choices when it comes to siding for your home, especially when compared to wood siding, which often needs to be replaced or repainted. Though the initial costs may exceed the costs of other siding materials, it is a cost-effective choice over time.
Energy Savings
Vinyl siding serves as an extra insulator for your home, reducing heat and cooling costs, which will save you money!
Maintenance
Vinyl siding is low-maintenance – consisting of basic cleaning once or twice a year by spray washing or power washing it.
Durability
A high-quality vinyl siding product should be able to withstand winds of up to 110 MPH and other severe weather conditions! Vinyl siding does not normally become cracked or brittle from weather, though it can get loose. Durability also includes life span, and vinyl siding is a top choice for that as well, since it can last for decades.
Eco-Friendly
Vinyl siding, especially when compared to other siding options, is known as a "green" option. This is not only because of its energy-saving capabilities, but also because it generates less waste during manufacturing, produces little waste when installed, requires few resources for maintenance and releases fewer toxic chemicals than other exterior types of siding throughout its life span!
Color & Look
Installing vinyl siding can add beauty to your home! It is available in a variety of colors, and can also be textured to appear as natural wood – a popular choice for those seeking a traditional look of wood for their home with the added benefits of vinyl. Check out our photo galleries of siding here!
If you're interested in vinyl siding for your home contact us today! Or stop by our Idea and Design Center at 349 Oriskany Blvd in Whitesboro where you can see all the siding styles and samples we have on display, and take a look for yourself!