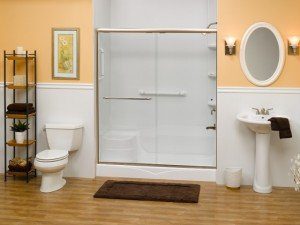 Have you been thinking about improving the design of your bathroom, but you aren't sure about where you should start? Then you might want to consider giving New York Sash a call. Most people think of us as window experts, but we've also provided people all throughout Mohawk Valley with bathroom solutions for years. Our professional staff can help you make your bathroom an oasis of relaxation and beauty by offering you custom design solutions and installations. They can make your old, dingy bathroom become the bathroom of your dreams in a matter of days.
That's because we offer acrylic bath liners, wall systems and accessories that make remodeling the bathroom in your Mohawk Valley home easy. The concept is simple – our highly trained New York Sash technician will install a new tub and wall system over your old bathtub and walls. This is done without disturbing the plumbing, floor or walls. This remodeling option gives you a beautiful, low-cost renovation without all the mess of a traditional remodel.
New York Sash can help you design a dream bathroom for your Mohawk Valley home.
The installation is only a portion of how we can help you with the bathroom design needs of your Mohawk Valley home. We work with you from the beginning of your project through its completion, so that we can help you make your vision a reality. Bring us your pictures, sketches and ideas, and we'll make sure the bathroom we create is to your exact taste. Before any work begins, our bathroom design team will sit down with you, listen to your needs and wants, and consider all of your ideas in order to create your perfect bath.
For your convenience, our system allows us to easily convert an existing bathtub into a shower, too. We'll simply remove your old tub and install an easy-access, extra large shower that provides you with full accessibility options like grab bars, walk through inserts, seated shower bases and folding seats. And, you're able to completely customize the new shower in your Mohawk Valley home with our acrylic wall systems and accessories.
You don't have to take our word for how New York Sash can make your bath a welcoming, relaxing space, though – try out our convenient Build a Bath interactive software feature that will allow you to explore the different styles, colors and textures we offer. Once you create the perfect bathroom for your Mohawk Valley home, give us a call at [phone_number] and we will be happy to schedule a free consultation with you.