SHOWER FOR A SOLDIER BATH REMODEL
New York Sash wanted to improve the life of a local Veteran experiencing hardships that hinder every day tasks, such as bathing.
As our thank you for their service, one nominee was selected to have a new tub or shower installed in their bathroom. This bathroom remodel giveaway included a new acrylic tub or shower with accessories, hardware, valve and fixtures.
Let's take a look at the walk-in shower we installed for the 2021 Shower for a Soldier recipients, Richard & Julie Tucker.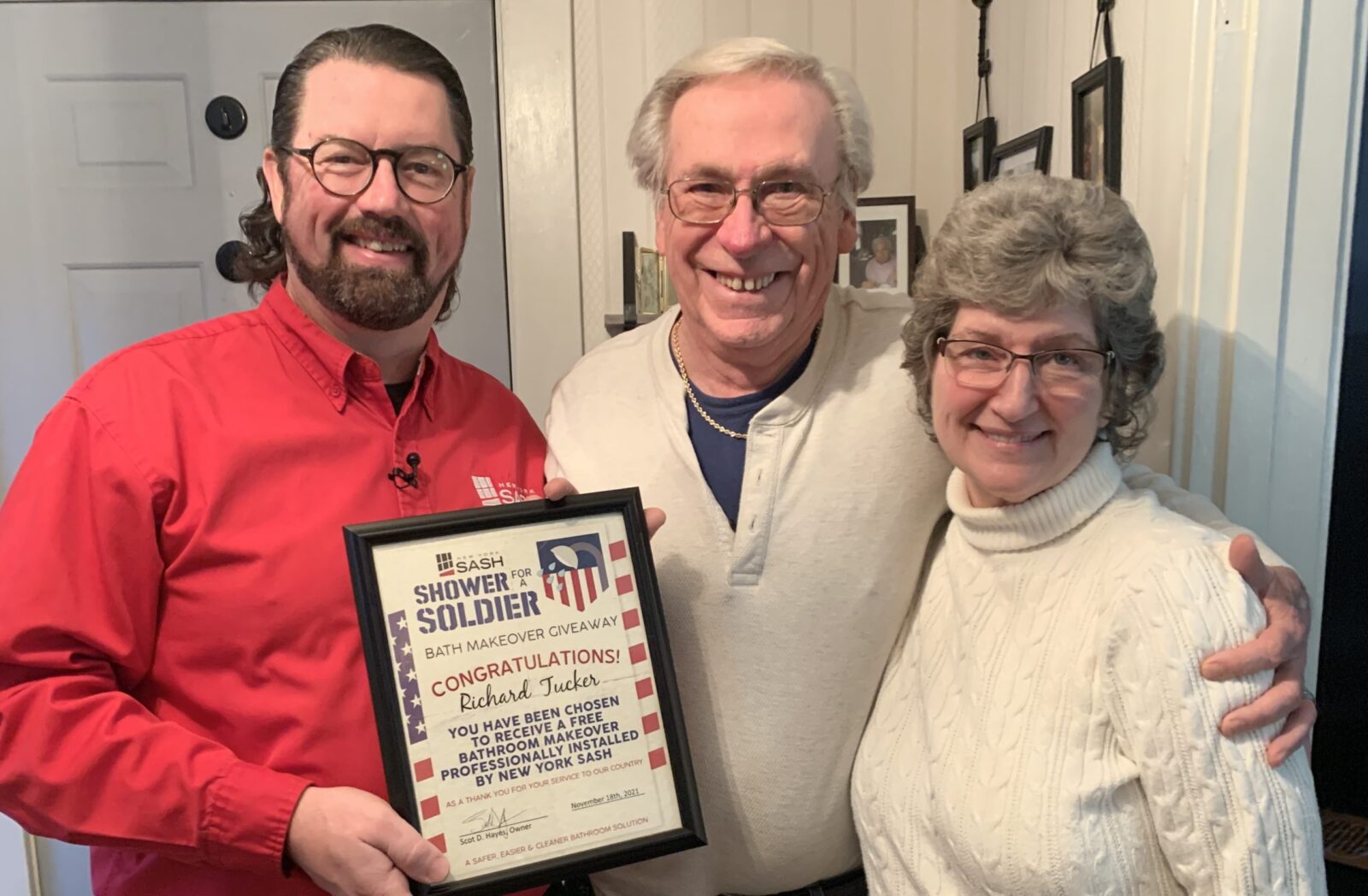 We installed a beautiful new walk-in shower with a patterned wall surround, a matching four shelf caddy and a bench seat in the color biscuit for support and accessibility. Chrome grab bars, fixtures, ceiling panels and a barn style shower door were installed and complete the bathroom makeover.
They previously had a tub-shower that was becoming difficult for Richard to get in and out of. This new walk-in shower is much more accessible and will make using the shower easier and safer.
"I truly believe that my husband is the right candidate for a new shower… [in our shower now] he has to step over the bathtub wall to get in, and with him having all of these ailments I fear that one day this will cause injury. My husband is the kindest man that I know and I believe a new shower would lessen one of the many troubles that he has."
With a tub to shower conversion from New York Sash, you can have your bathroom customized to fit your needs.
If you know a deserving Veteran who would benefit from a bathroom upgrade, nominate them for our Shower for a Soldier Bath Makeover Giveaway. Nominations of Veterans will open in mid-September and a recipient will be announced on Veteran's Day.
Have a project you want to show off? We would love to see it! Tag @newyorksash on social media or send it to info@newyorksash.com and we will feature it!