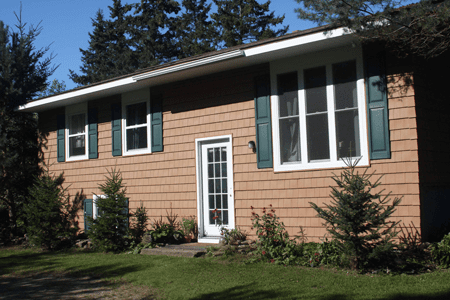 Cedar Impressions captures the authentic look of semi-transparent stained cedar by emphasizing rugged textures and using light and shadow to highlight subtle variations in color. This beautiful line of vinyl siding options was inspired by nature and can transform your home's appearance.

Molded from real cedar shingles, Cedar Impressions ® offers natural looking vinyl cedar shingle siding without the expense and heavy maintenance of wood!
It will add the rugged charm and natural beauty of cedar shingles to any home, whether it's whole-house siding or a distinctive accent.
Cedar Impressions ® is Available in 6 Unique Styles, as well as a Wide Range of Colors:
•       Double 6-1/4" Half-Round Shingle
•       Double 9" Staggered Rough-Split Shakes
•       Double 7" Straight Edge Rough-Split Shakes
•       Double 7" Staggered Perfection Shingles
•       Double 7" Straight Edge Perfection Shingles
•       Triple 5" Straight Edge Perfection Shingles