If you're looking for a unique style siding to make your house stand out – Board & Batten Vertical Siding is the choice for you! It's a fun and modern take on classic siding. Combining the two on your home will give it a distinctive look that's sure to get noticed.
Two Convenient Vertical Panel Lengths help reduce seams and transitions on walls, while the width provides a realistic cedar board look!
Board & Batten 12'6"
Board & Batten 10′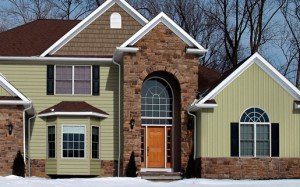 Vertical Siding is ideal for the whole house or as an accent application. Set your house a part from the rest!
Board & Batten – Single 8″
Board & Batten – Single 12″