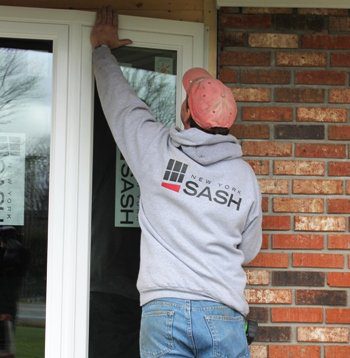 If you've been thinking about replacing the windows in your Utica, NY home, you might want to consider vinyl replacement windows from New York Sash. Our premium vinyl replacement windows offer homeowners a lifetime of beauty and comfort. We custom order your windows to your home's exact measurements in the style you want. You can trust that our windows meet the highest of industry standards for insulation, structural strength, and resistance to the elements. Our vinyl replacement windows are made to withstand even the worst weather conditions in Utica, NY!
What's more, our vinyl replacement windows not only add curb appeal and value to your Utica, NY home, but their energy efficiency will also save you money. That's because New York Sash vinyl replacement windows feature LowE with Argon insulated glass. This special glass exceeds Energy Star requirements, and sashes tilt in for easy window cleaning. They're easy to operate and maintain, and are available in a variety of styles with different glass options and colors.

Choose New York Sash to install vinyl replacement windows in your Utica, NY home.
Today's vinyl replacement windows are manufactured with energy efficiency in mind. Whether you choose double or triple pane, you'll find that new replacement windows keep your home warmer in the winter, cooler in the summer, and help keep your utility bills in check year round. At New York Sash, we take great pride in providing vinyl replacement windows that are perfectly suited to your Utica, NY home – increasing its value and making it not only beautiful, but an investment in your future. We offer a number of beautiful, high quality window options to meet your needs:

As you can see, New York Sash offers numerous vinyl replacement window options for your Utica, NY home. If your windows are old, drafty and not keeping the cold or heat out, it's time to think about replacement windows. By choosing to install vinyl replacement windows, you'll enjoy added value, higher energy efficiency and a more beautiful home. Let our family take care of your family – contact New York Sash at for a free estimate on vinyl replacement windows for your Utica, NY home today, or fill out this convenient contact form and we'll be in touch with you shortly.