When you install 
vinyl replacement windows
 you going to see the difference.  
New windows
 will eliminate drafts, they are easier to clean and today's windows help reduce energy costs.
Vinyl replacement windows can make your home livable again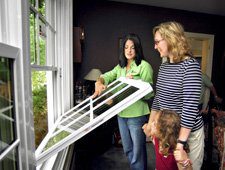 Older windows in your home have proven to give homeowners grief. They don't open, they can be drafty and they are not energy efficient. As a homeowner none of this stuff is helping you relax. It can actually be quite stressful. So many homeowners are getting  vinyl replacement windows  to make their homes livable again.
When you talk with a  vinyl replacement window contractor  from New York Sash they will go over all the benefits of new windows with you, help you pick out the right style and type of window for your home and budget, they'll even help you take advantage of incentives/rebates that are available in your area.