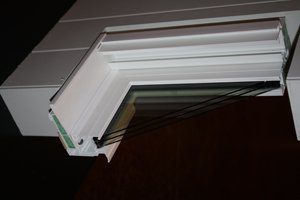 If you're looking for premier quality, energy efficient windows for your Central NY home, then you'll want to consider triple pane windows. Triple pane windows can increase your home's energy efficiency, help you save money on your utility bills, provide optimal insulation to the outdoor climate and help reduce noise pollution, making your home a more comfortable place to live.

Triple pane windows are designed to keep the outside air out and the inside air in, helping Central NY homeowners stay comfortable all year long.
Triple pane windows are the very best choice for maximum energy efficiency and comfort for your Central NY home. Triple pane windows are built for high performance with LowE, krypton gas and triple glazing. These layers of protection act as a barrier to the outside elements – including the intense heat of the summer months and the cold chill of our winters. And, triple pane windows are made with durable materials, sashes that tilt for easy cleaning and easy-to-operate locking systems, which will help add value and beauty to your home.