A bay window is created when two or more individual windows are joined side by side which project away from the wall on which it is installed. Center windows, if used, are parallel to the wall on which the bay is installed. The side windows are commonly angled at 30 and 45 degrees. Bay windows are commonly used to provide the illusion of a larger room. They are used to increase the flow of natural light into a building as well as provide views of the outside that would be unavailable with an ordinary window.

A bow window is a rounded bay window that projects from a wall in the shape of an arc. Bow windows are designed to create space by projecting beyond the exterior wall of a building, and to provide a wider view of the garden or street outside and typically combine four or more casement windows, which join together to form an arch.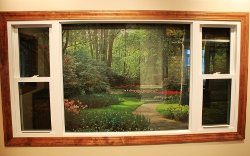 A picture window is a large fixed window. A picture window gets its name because it is designed to provide a clear view of your surroundings, acting as a picture frame for the scenery outside. Since it features a wise expanse of glass, a picture window is great for bringing natural light to your home. Adding a picture window to a room is also a wonderful way to highlight an attractive outdoor view.