Scot Hayes
Owner
Scot was born in Rome but graduated high school from Wilbraham and Monson Academy in Wilbraham, MA. From an early age Scot enjoyed cooking and worked in the restaurant business for most of his adolescent and young adult life. He received a degree from the Culinary Arts program at MVCC. After college, Scot opened Pumpernickel's Deli and Catering Company in the Mohawk Valley which expanded into three locations. Eventually Scot decided to leave the food service industry and joined New York Sash, then owned by his father, Stephen. Scot worked in all departments and learned much about the home improvement industry before taking over as owner and CEO in 2000.
Scot currently runs New York Sash and owns/co-hosts local television show CNY's Open House with his wife Jill. Since 2007, CNY's Open House has been featuring the area's best businesses and community efforts through 30-minute television episodes. In recent years Scot has taken on many endeavors, such as producing the annual Home Show at Turning Stone Resort Casino and Syracuse Fall Home Show. He opened Hole In One Golf Center in 2013 out of his love for golf.
Scot has been on the Board of Directors for the Greater Utica Chamber of Commerce for many terms. He is also heavily involved in the Ride For Missing Children and a strong supporter of other community initiatives.
shayes@newyorksash.com
Jill Hayes
Co-Owner
Jill was born and raised in Utica and attended Utica City Schools her whole life. She started with New York Sash in 1995 as a part time Marketing Assistant. Through the years she worked full time as Director of Marketing and part time as company bookkeeper. Today, Jill is the company spokesperson and assists with New York Sash-owned local television program, CNY's Open House.
Jill is involved in the Ride For Missing Children, the Boy Scouts of America and volunteers for many community events.
jhayes@newyorksash.com
Jennifer Olivadoti
General Manager
My journey with New York Sash began in December 1998. I was living in South Carolina, working as a relationship banker when my sister Jill offered me a job. I was hired to work in the office; however, I didn't know anything about the home improvement industry. I started by working in the marketing department where I made phone calls to schedule appointments. I then worked in the office as the receptionist and office assistant, which then led to handling financing, installation and customer service.
Today, I am the General Manager and oversee the entire business. During my years here I have learned a lot about the home improvement industry. Making our customers happy is my ultimate goal. One thing I love about New York Sash is that everyone in our company is driven to provide superior customer service before, during and after the sale. I also enjoy working with my immediate family as well as my New York Sash family, which continues to grow. When I am not working, I enjoy spending time with my friends and family, my husband Mike and our children.
jolivadoti@newyorksash.com
Katie Reilly
Director of Marketing: New York Sash & CNY's Open House
I've been with the New York Sash family since high school. I started full time in the Marketing department in 2008. In my current position as Director of Marketing I handle promotion planning, event coordination, social media marketing, digital marketing, public relations and much more. I also manage our local television show, CNY's Open House. I have a Masters of Science in Information Design and Technology from SUNYIT. In my spare time, I enjoy finding new things to do in the Utica area!
kreilly@newyorksash.com
Rich Zakala
Sales & Marketing Manager
With over 15 years in the home improvement business, my goal here at New York Sash is to provide our customers with the knowledge about not only our high quality products but also about the company itself. As Marketing Manager I am in charge of answering all customer inquiries, coordinating all appointments for estimates and am responsible for our sales staff. Away from work I enjoy spending time with my wife and kids and attending my children's sporting events.
rzakala@newyorksash.com
Rachel Hayes
Installation & Accounts Coordinator
I work directly with the installation department handling a majority of their scheduling, as well as handling all incoming service requests and managing some accounting tasks. I started working full time 2 years ago, but I've grown up here at New York Sash and I enjoy being able to work with my family on a daily basis.
rhayes@newyorksash.com
Carli Bartlett
Receptionist/Bookkeeping
Having known the Hayes' for most of my life, I was honored to join the team at New York Sash. I work as the receptionist, as well as handling bookkeeping tasks. I enjoy working with such a terrific team who are constantly striving to provide the best service to our customers! I will be graduating from Mohawk Valley Community College in the spring with a Degree in Business Management, and plan on continuing my education at SUNY IT in the fall. My father is part of the installation team, so the New York Sash family has certainly taken care of my family, and look forward to taking care of yours! Stop in the showroom and visit me!
cbartlett@newyorksash.com
Mike Tylee
Design Consultant
In December 2004 I came to New York Sash after spending 28 years as a plant manager at an aluminum extrusion plant. I started as a design consultant with no previous sales background. However, I enjoy meeting and talking with people and was easily able to adapt to life as a New York Sash representative. I enjoy what I do because I am able to meet a variety of people, see a lot of interesting homes and rise to the challenge of meeting people's needs. The high quality of products that New York Sash sells makes me proud to be a part of this company.
Dave Lopiccolo
Design Consultant
I started my career in Home Improvements in 1988. After learning all aspects of the business, from marketing and installation to sales, I quickly learned that sales was the aspect of the business that intrigued me the most. I have worked as a salesman in this industry for several different companies and I confidently settled into my position with New York Sash as a Design Consultant in 2003.
After 25 years of experience selling home improvements I still get a thrill seeing the excitement on my customers faces when they watch a demonstration of a great product and then realize they can own that product. My wife Laura and I have been married for 21 years. Together we have raised 4 boys and have 5 beautiful Grandchildren. Every day I have the privilege of going to work for New York Sash, a family business that not only takes care of their customers like family, but my family as well.
Jeff Claflin
Design Consultant
I was born in upstate NY, graduated from high school in the mid-70's, then after serving in the U.S Army for 4 years, I completed my bachelor's degree in Economics at SUNY Albany. My wife, Gayle, and I have been married for 35 wonderful years. We have been blessed by 2 beautiful daughters and many terrific friends.
Spending the better part of the last 30 years in and around the construction and remodeling industries, Gayle and I accepted a unique challenge in early 2010. We "pulled up stakes" in Georgia, where we had lived and worked for 15 years, and moved to South East Asia. In Hanoi and DaNang we had the unique opportunity to work closely with young Vietnamese men and women, who were eager to learn western business and spiritual values.
Currently, living back in central NY, we are enjoying time with friends and family. The New York Sash Family has welcomed us in and has provided me with the opportunity to continue serving others right here in our local community. I look forward to meeting and serving you!
Bob Lopiccolo
Design Consultant
In January of 2013 I became part of the New York Sash family. After 10 years of wireless sales and management, I was looking for a career that challenged me and also helped people. With the quality of products that we provide, it was easy choose New York Sash for my career. It is a great feeling going into someone's house and helping them get what they need for a more comfortable home. It is fun to meet new people daily.
Mark Bartlett
Design Consultant
After owning and operating a golf course for many years, I joined New York Sash in summer 2016 to help our during a busy season. I liked working here so much I have not left, and in October 2016 (a decade later) I transitioned on to the sales team. I enjoy working with customers to make sure they are satisfied with their New York Sash products.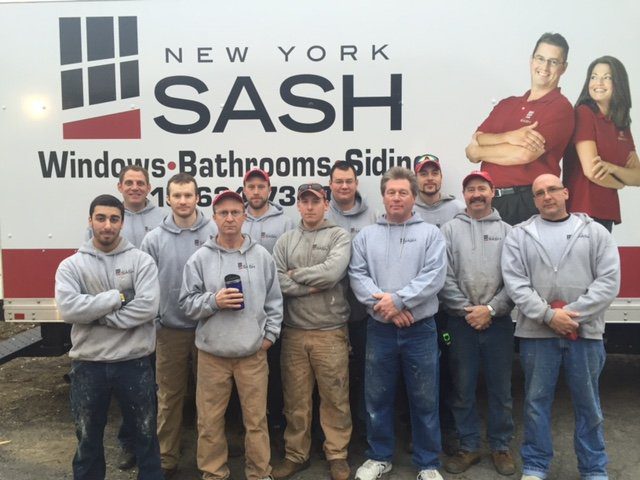 Our installers are factory trained and certified to ensure we have the most detailed knowledge on all products we install. We are safe on the job and with your home.
Certifications & Training includes:
Occupational Safety and Health Administration (OSHA) Certified
EPA Lead Safe Certified by the Environmental Institute for Lead Safety
InstallationMaster by the American Architectural Manufacturers Association for Windows and Doors
Vinyl Siding Institute Certified Installer Program
CertainTeed Building Solutions Specialist
CertainTeed Advanced Training Program for Vinyl, Insulated & Polymer Siding
CertainTeed Master Craftsman
CertainTeed 5-Star Contractor for Vinyl Siding and Trim
CertainTeed Master Shingle Applicator
ProVia Entry Door Systems Installation
LeafRelief Gutter Protection Installation Training
BCI Bath Systems Manufacturer Training
Jeff Reilly
Installation Manager
Since I was a teenager I have enjoyed working outside and with my hands. I started at New York Sash in 2000 and have done work on every kind of project. For a few years, from 2010 to 2013, I worked with the New York Sash window manufacturer as a service technician. This allowed me to learn everything there is to know about the New York Sash brand window. In January 2013 I became a New York Sash Installation Crew Chief. It is great to be a part of the New York Sash family and to help our many customers.